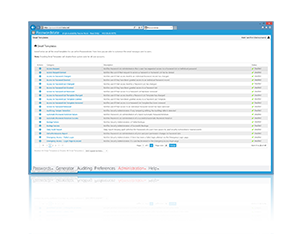 Passwordstate is designed to keep users informed when different events take place. This awareness is achieved by a combination of audit records, and real-time email notifications.

Security Administrators can enable/disable real-time notifications for all users of Passwordstate, or individual users can elect disable/enable email categories as required. Real-Time Notification Groups are also available, so different sets of users can receive different categories of emails.



---
Email Notifcation Templates
Passwordstate provides a total of 54 different types of email notifications, of which all can be modified to suite the communication style of your organisation.
Security Administrators are able to enable or disable individual notification templates, as well as restore back to the original template content.
The following types of email notification templates are available:
Access Request
Access Request Denied
Access to Password Changed
Access to Password Granted
Access to Password List Changed
Access to Password List Granted
Access to Password List Removed
Access to Password List Template Changed
Access to Password List Template Granted
Access to Password List Template Removed
Access to Password Removed
Authentication Credentials
Backup Failure
Backup Success
Delta Permissions Report
Discovery Job Results
Emergency Access - Failed Login
Emergency Access - Login Page Accessed
Emergency Access - Successful Login
Excessive Activity Report
Failed Login Attempt
High Availability Site Accessed
License Restriction
New Handshake Approval Request
New User Account
One-Time Access Permissions Removed
Password Access Expired - Password Changed
Password Access Expired - Time
Password Added
Password Copied To Clipboard
Password Deleted
Password List Access Expired - Time
Password List Deleted
Password List Time Based Access Changed
Password Navigation Tree Updated
Password Reset Recommended - Password
Password Reset Recommended - Password List
Password Reset Results
Password Time Based Access Changed
Password Updated
Password Validation Results
Password Viewed
Passwords Exported
Passwordstate Outage Notification
Permalink - Password
Permalink - Password List
Security Administrator Granted
Security Administrator Removed
Self Destruct Message Content
Self Destruct Message Email
Self Destruct Message Read
User Account Disabled
User Account Enabled
User Account Impersonation