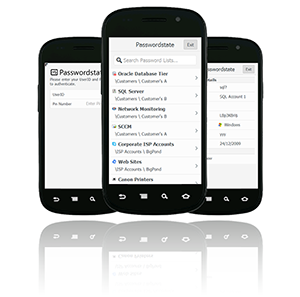 Do you need access to your password resources when you're out of the office? If so, use the Passwordstate Mobile Client which supports iOS, Android, Windows 8 Phone and Blackberry mobile platforms.

Permissions to passwords via the Mobile Client are applied at the Password List level, so you don't need to expose all of your Password Lists externally if you don't want to.

We also supply a separate installer for the Mobile Client, so it can be installed on a different server to your standard Passwordstate web site if required. This allows a separate install in your DMZ or a different 'hardened' server.
---
Mobile Client Features
The following are just some of the features available with the Mobile Client:
Authenticate using your Active Directory Domain or Forms-Based account, Mobile Pin Number, AuthAnvil Two-Factor Authentication, Google Authenticator, Duo Push Authentication or One-Time Password
Retrieve password records
Browser or search through all the Password Lists you have access to
Browse or search through all the passwords stored in a Password List
Browse or search through all passwords stored in all the Password Lists you have access to
Full auditing for authentication & accessing passwords
Brute force dictionary attach detection and blocking
Limit the number of records returned to improve performance
Automatic logout after set inactivity period is reached
Choose which Password Lists you expose to the Mobile Client
Specify what the minimum length is for the Mobile Access Pin Number